Retargeting for Micropreneurs: How an online guitar teacher makes $13 for every $1 spent with Perfect Audience
Editor's note: Perfect Audience works with advertisers of all shapes and sizes, so we thought it'd be fun to take a look at how even the smallest business, in this case a one-man business (!) can see huge results using Perfect Audience's easy ad retargeting tools.  Enjoy!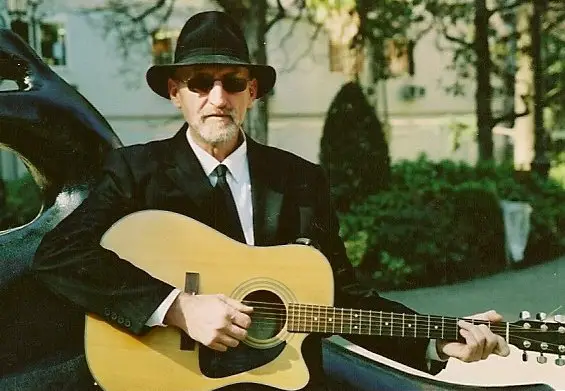 Although Derek Bruce makes his living by creating, marketing and selling video lessons teaching blues guitar techniques, he swears he's not a businessman.
"Oh, no, I'm a bluesman," he says. "I'm doing the rest of it because I need to eat."
Bruce, who performs as "Jim Bruce," sells a bundle of 36 video lessons, which teach students the fingerpicking styles of classic blues musicians. He offers online access, disks and downloads through his website, www.play-blues-guitar.eu.
Since he's more musician than businessman, Bruce appreciates easy-to-use services that attract potential customers to his online platforms, which allow him to focus on what he really loves: playing the blues. In the beginning stages of his enterprise, Google searches brought enough traffic to keep him afloat. But after changes to search algorithms caused a steep decline in visits, Bruce needed another way to reach potential customers.
To compensate for the loss in traffic, Bruce researched retargeting and decided on Perfect Audience because he liked the look and feel of the interface, he says. After a trial Facebook campaign and then web retargeting, Bruce has found a sweet spot by running web retargeting ads for discounted lessons. "When I did that, it took off," he says.
Since July 31, Bruce has spent about $350. He's seen returns of $2,070, which has helped enormously, he says. "For a very small user like myself, I think that's a pretty good result because just to make an extra $1,000 a month is great for me." In the first month, he estimates he made $13 for every $1 he spent on retargeting.
"I think I eat meat now," he jokes.
Since he began advertising a 30 percent discount on lessons, he's also gotten more creative with the look and feel of his promotions. Bruce varies the visuals, colors and layouts. One of his favorite advertisements was lighthearted: It featured a picture of Bruce and his guitar and said, "If you don't learn to play blues with my lessons, I'll eat this guitar."
It redirected to a page on his site with a photo of him seasoning his guitar with salt and pepper.
Overall Bruce says he recommends Perfect Audience for its fast customer support and its returns, which allow him to continue doing what he's passionate about.
"If you could make a living out of doing something that you love, it's wonderful and rare," he says. "After half a lifetime, or more than half a lifetime, of chasing the wrong ideas like success and careers, my advice for anybody is if you have a passion, if you think you can make a living at it, you can. You go for it."
---